Spécial 74èmes 24 Heures du Mans, Centenaire de l'ACO
Interview: Reinhold Joest, Team Manager

Ralf Jüttner, Technical Director,
Audi Sport Team Joest
Pilote de course émérite, Reinhold Joest est depuis 1978 le Team Manager de sa propre écurie. Bien lui en a pris puisque par quatre fois le Team Joest s'est imposé au Mans sur Porsche, notamment contre les voitures officielles. On comprend mieux dés lors que Audi ait fait appel à lui pour imposer la marque aux anneaux sur le circuit sarthois dés l'an 2000. Audi revient cette année avec un prototype équipé d'un moteur Diesel... une première pour un prétendant à la victoire. Rencontre avec un personnage hors du commun et un organisateur hors pairs... Le texte de l'interview est volontairement maintenu en anglais, langue qui a été utilisée lors de nos échanges ....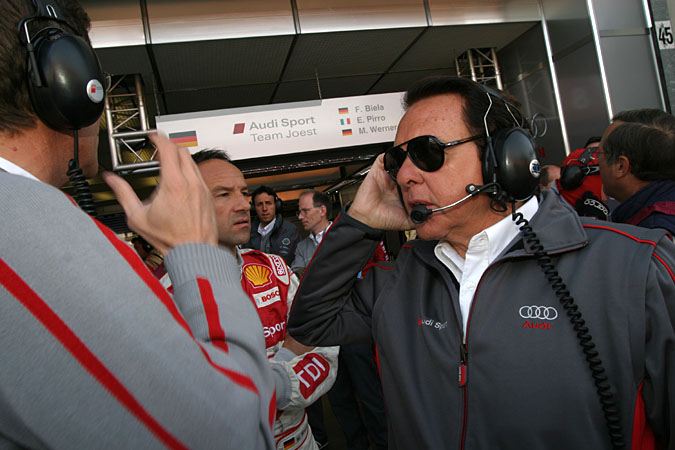 Admiré par les journalistes, redouté pas ses adversaires, Reinhold Joest est l'homme qui a battu les Porsche "Usine" avec ses Porsche "Privées"... et qui a amené Audi à la victoire dés l'an 2000. Team Manager de l'écurie la mieux organisée du plateau, Reinhold Joest va devoir imposer en 2006 les nouvelles Audi R10 à moteur Diesel.

After the preliminary practice session of the 24 Hours of Le Mans, and a few days before the 2006 win of the new Audi R10 Diesel, Reinhold Joest answers a few questions from

ConsultingNewsLine.

During a half an hour interview in his motorhome Reinhold Joest reveals cautiously a few elements of what makes his team be a winning organisation, and the most successful Le Mans Team ever, with 7 wins at the moment and a 8th under preparation. A tale of challenge and dedication. But a little nostalgia was involved as it appears...
After a carreer of pilot mainly conducted with the German sports car maker Porsche, Reinhold Joest became a team manager by setting-up his own organisation. Two wins in a row with the famous Porsche 965 in 1984 (4th win of Pescarolo as a pilot) and 1985 against the Works Porsche, then two other wins in 1995 and 1996 with the TWR Porsche made the Joest Racing team be considered the most efficient organisation among the Endurance World. A reason for Audi AG. to give Reinhold Joest the responsability of introducing his new open cars in 1999. The right choice for the Ingolstadt's firm: from 2000 to 2002 the « Half-Official » Audi « Joest » will steal the show at Le Mans. After 3 other wins of the Audi group, with Bentley in 2003 and private Audis in 2004 (Japanese Team Goh )and 2005 (US Team Champion) Audi returns officaly to Le Mans in 2006 with a breath-taking challenge : to win LeMans for the fist time ever with a Diesel engine. A wonderful challenge for the 100th aniversary of the racing organisation ACO. Once again the Joest Team has been chosen to carry the Four Rings Flag to what happened to be an overall success : Pole position and win. After the preliminary practice session of the 24 Hours of Le Mans 2006, Reinhold Joest gave us the great honnor to receive us in his motorhome to answering a few questions from ConsultingNewsLine. To this purpose he was backed by his Technical Director Ralf Jüttner who was previously with Joest Racing but also with Team Goh. Cross questions were proposed by David Legangneux, from Le Mans Racing, the home town motor racing magazine. During half an hour Reinhold Joest unveiled many elements of his successful organisation. But the man keeps being a pilot and a little nostalgia is involved...
Bertrand Villeret : Mister Joest, I would like to start with a few questions that are related to your life.
Reinhold Joest :

My Life ?
...as a driver and a team manager ... the way you managed the many things in it, and afterwards we might come to more technical questions. How would you, Mister Joest, depict yourself today, present yourself? You have been a pilot, a team manager...
Reinhold Joest :

Yes, yes. I started my race career in 1962, within a small team, running Porsche Carrera GT in climb races. And the first time I came here in Le Mans, it was in 1969 with a Ford GT40. It was a big event for me : as a private driver, I got the first contract in my life for this event, the 24 Hours of Le Mans. And also I've got the chance at that time to do the original Le Mans start, you know, with the drivers running accros the track down to the cars.
1969, it was the man on the moon that year.. and you were walking on the track at Le Mans. So that was a great year, isnt'it ?
Reinhold Joest :

Yes, yes... So after this I've got a Porsche effective driver position. I had got a contract for that, and I drove in 1971 the 917 Porsche ... the " Pink 917 ". You remember ?
Oh yes, I' ve got a copy (miniature) in my office !
Reinhold Joest :

...so I mean , this kind of cars was running nearly close to 400 Km/H of max speed on the strait, the Mulsane Strait. So it was a nice experience.
A kind of an Unidentified Flying Object ?
Reinhold Joest :

Yeah, yeah, yeah...
An then you have been battling against Renault, Rondeau...
Reinhold Joest :

...and Matra
And you finished third in 1978
Reinhold Joest :

Yes, Yes Yes, and second in 1980
...the year Rondeau won ?
Reinhold Joest :

Yes. This very year I was with Jacky Ickx. You know, this is also interesting : in the old time we had only two drivers for 24 hours. So today with 3 drivers, I mean, it is more easy.
You mean, less challenging on a human level than it used to be ?
Reinhold Joest :

Yes, correct.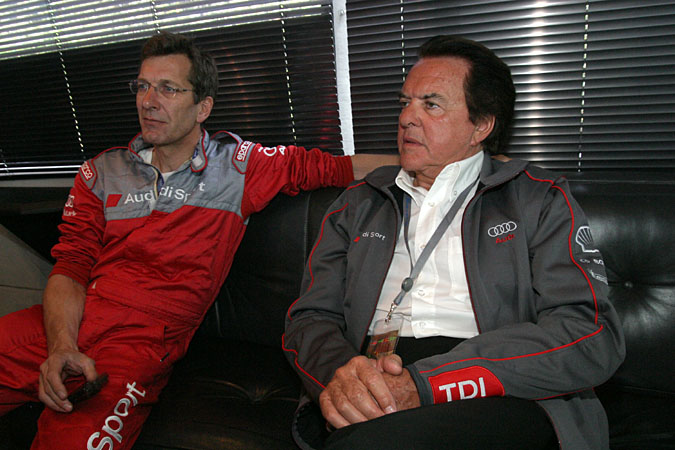 Début d'interview un peu tendue pour Ralf Jüttner, Ingénieur de course et Reinhold Joest dans le Motor Home d'Audi Sport Team Joest
So, how is it that you suddently became a team manager. And what was the asset, the "advantage" of having been a pilot before ?
Reinhold Joest :

I stopped my race carreer in 82, 1982, because I already had my racing team (1978). It was very hard to me to stop racing but it was also very important for the business point. So, from 82 and 83 I build-up my team and made it bigger and bought 2 important cars in that time, the Porsche 965 and we did all the championship races and the German Championship races. Sponsoring was Marlboro, Neumen, Belga...and German sponsor Wekla, which was windshields for cars...
Then came this marvelous year 1984 when you won (as team manager), and again in 1985 against the Works Porsche.
Reinhold Joest :

We started with the Porsche 965 in 1983 and that year we had an accident on sunday at 12 H 30. The driver was Klaus Ludwig, and Henri Pescarolo. This was a big challenge for us, the first race as a team with Porsche. Before the accident we had been at the second position. But the damage was too big for repair. It took nearly 30 minutes so this race was gone. And one year after we have been winning, in 84 and 85 also.
84, with the Pierland Porsche...
Reinhold Joest :

Correct
And 85 the same chassis...
Reinhold Joest :

Same chassis
Is there some kind of a mysterious divinity in your chassis because you have one chassis winning in 84 and 85 and you do the same in 96 and 97 with the TWR...
Reinhold Joest :

Yes, Yes, correct, this's correct
So when you pay for one chassis you win twice...
Ralf Jüttner :

It's economy ! (laughts)
Which brings us to the main part of this interview for our readers... which is to be devoted to things around the organization : you have been able to beat the official Porsche Team (1985, 1995, 1996) and you did it absolutly perfectly, then it seems that Audi has choosen to ask you to manage his own team when it came to win Le Mans from 1999. So you won with Audi very rapidly, 3 victories in a row from 2000 to 2002 (Hat Trick)... and finaly when they changed the technology to run on Diesel they asked you again to manage their team. So could you explain this choice of the Joest team? And what is behind this so successful organization?
Reinhold Joest :

I would say that we have accumulated a lot of experience this last 25 Year, let's say. So, Doctor Perfgen, I heard this later, and he told me another day, in my young time he watched me all time, and always, especialy in Le Mans, what we were doing, what we did , and so on, and in this time in 1998, which was our last Porsche event here in Le Mans with the same car but with a new engine from the GT1, and a new gear box, which was not the best idea, I mean, because the balance of this car was not in the same standards as in the years before in 96 and 97, so the race was bad for us, we had some engine problems, the second car had a big accident in the night, twice. I stopped the race because I did not want to have another bad accident, because you know, Le Mans is always dangerous. So we stopped and then I got a telephon call from Audi for a meeting, and so on... So this was the begining with Audi at the end of 1998... and today we are in 2006.
Ralf Jüttner :

Coming back to your question, «

did we start with Audi and we were successful pretty quickly, and then a few years later when they had a new technology they call us again

», that's not really true, because we have not been far away from Audi, we just did do sportscars, not in Le Mans, because there was no official factory involvement from Audi. Audi had the race running only in customers and the factory concentrated on the DTM in 2004 and 2005 and that is what we did, so we were still together with Audi, they have been some ideas to come back to sportscar racing, with a different car, was it Diesel or not does not matter. But this idea was there, and it was pretty clear that once this happens as factory team we would be back doing the sportscars and not the DTM. And this is what exactly happens
So, that is the reason why, when they decided to go to Diesel technology they immediatly asked you to run the car and manage the team ?
Reinhold Joest :

Yes, yes
The decision has been taken 1 or 2 years ago... to run this new engine ?
Reinhold Joest :

At least
Ralf Jüttner :

It was after Le Mans 2004.
Reinhold Joest :

Yes
Ralf Jüttner :

Somewhere after Le Mans 2004
Reinhold Joest :

Yeah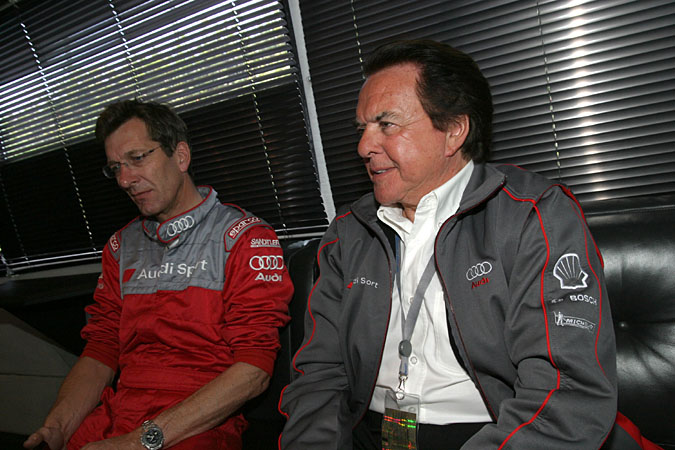 Le retour sur le passé de pilote de Reinhold Joest et les origines du Team Joest détendent un peu l'atmosphère et semblent enchanter le Team Manager tandis que son ingénieur de course semble se préparer à la série de questions techniques qui ne vont pas tarder à pleuvoir...
So, when it comes to win Le Mans again with a brand new technology, with evrything new on the car, what is the idea behind the win ? Is it to have the best car, a car which is already perfect and safe and reliable, or is the organisation, the men behind, the most important thing ?


<>
Reinhold Joest :

I mean, the challenges are different. All the car is brand new from the front to the rear and back. So the main problem is the engine of course, Diesel engine, with two additional gears, and also the gear box. The gear box must be much stronger than ever before because the new engine has a lot of "more" torque, you know.
You mean the torque might break the gear box in a few minutes if it was not adapted ?
Reinhold Joest

: Alway in Le Mans the gear box has been a problem. The 5th gear or the 6th now.
Ralf Jüttner :

The gear box is the problem. With Diesel you increase your torque by a big amount. The gear box anyway is, maybe, the weakest point in the cars.
We found the car to be the fastest this morning, I hope the chrono has not changed in between. At Pescarolo yesterday they were about to say that you have much more torque, much more power and that you should certainly be the fastest today
Ralf Jüttner :

I'am not so sure. I know that if I was Pescarolo I would say the same. But, we have more torque, This is clear. If we have more power? I dont know. I'am not so sure. Because, the ACO has put together a set of rules and this set of rules aims at having powers pretty similar troughout the performances of cars be it a turbo charged engine or a normaly aspirated engine or a 12 cylinders or a 9 cylinders or a gasoline or a Diesel car. Of course, it is difficult because, now only it's the first time that somebody comes with a proper Diesel and maybe they have to readjust at stages, but I dont think that we have so much more power and we have not been so much quicker.
One second and a half...What about the refueling pace. Do you have an idea now on how you will refuel during the race?
Reinhold Joest :

In race we can do certain laps...
Ralf Jüttner :

We dont know, we definitly hope to make one or two laps more.
Reinhold Joest :

Yeah
You hope to have this advantage?
Ralf Jüttner :

Yes
Reinhold Joest :

Yes
Ralf Jüttner :

The refuelling time, if you mean that, is the same. We need the same time to put 90 liters of Diesoline for the others than to put 90 liters of gasoline
But will you really refuel two laps after the other cars ?
Ralf Jüttner :

We dont know yet
Reinhold Joest :

At least one...Let's say
At least one ?
Ralf Jüttner :

We have to prove that !
That was a big advantage in 1994 for the winning Dauer Porsche, to refuel less frequently than the other cars, and it made the difference on the finish line
Reinhold Joest :

Yes, Yes
Ralf Jüttner :

If evrything else is the same, the one who can drive a lap or two more will be better
Does it mean that to win at Le Mans, somehow, you must also play a little with the rules (Refueling of Dauer Porsche in 1994, fast Gearbox change of Audi in 2000 etc...) and that, this Up-stream strategy will decide on what you can catch on the track ?
Ralf Jüttner :

You must comply with the rules !
Reinhold Joest :

I'd like to say, the important point to win le Mans is the Set-up of the car, the aerodynamic of the car, and the handling of the car. Sometimes the handling is more important than sorting 40 Horses power more. [So it is better] when you can go always on the limit of this car on evry corner and in any long straight, you know, the car must be straight and nicely trimmed to drive.
Ralf Jüttner :

What Mister Joest means is that it is better to do 20 laps with 3'38 instead of doing 1 lap in 3' 35 and then 10 laps with 3'45... You have to keep the driver's car that quick but, lets'say, with no nice surprises, not tricky thing, not on the razor edge... This is much better than do one quick lap you can do but then evry other lap you make be a mistake because it is so difficult ...
Most french engineers see German organisations as things very well planed far before the races. Is this real, is this true, or do you adapt and adjust after the preliminary practice ?
Ralf Jüttner :

You have to plan ! Before.
Reinhold Joest:

Yes !

Joest Racing: Victoires en 84 (Pescarolo, casque vert) puis en 85 avec le même châssis estampillé n°7 puis victoires en 96 et 97 à nouveau avec un châssis identique d'une année à l'autre, toujours sous le numéro 7. Ne doit-on pas invoquer une divinitée cachée dans les châssis, à moins que ce ne soit ce numério 7 qui apporte par quatre fois la victoire? Certainement selon Reinhold Joest qui voit se pointer les questions concernant son organisation... En tout cas une situation très "économique" selon Ralf Jüttner: "One Buy, two Wins".
A long time before ?
Ralf Jüttner :

But if things change, during the race or during a weekend like this, test, whatever, then you have to adapt to the changing conditions. If you can do that quickly, it's good. I do it as quikly as possible.
What happens if it's rainy ?
Ralf Jüttner :

It's wet (laughts)... It's not a problem...I think... nobody wants rain... We had in 2001 we had a terrible rain, nobody wants it because it's dangerous, it's not very nice, It is always a big chance of accident and loosing the cars and in term of the performance shift between our cars and Pescarolo or whoever, I think noone sould ask for rain, because the Diesel power is even better, the more powerfull you use it. The more full throttle we drive the less he has an advantage over a gasoline car. The consumption of the Diesel is very very good compared to a gazoline car when you are running part throttle, but race cars dont do part throttle especially in Le Mans. It is 75 percent full throttle.
Does it mean that if the Pace Cars go into action a few times this will give a slight advantage to the Audis ?
Ralf Jüttner :

This car does not use a lot of fuel when it runs behind the pace car [or] when it is very wet then our performances [would] benefit better than would the gasoline.
Let's come to a much more technical question that holds for the R8 and the R10. So the question is why is it that the driver is on the left hand side ? Because when you are turning right there is much more centrifugal force on the driver and the aerodynamical drag is more important ...
Ralf Jüttner :

Its is very simple. The Audi is a German car and the German cars still have the steering wheel on the left hand side. It is as simple as that.
A tradition ?
Ralf Jüttner :

Yes they are German cars and German cars have still wheel on the left handside. And the benefit you have normaly with the driver sitting on the right hand side, this in the past might have been an issue. Nowdays you have things like batteries, fire extinguishers, black boxes... which you have to place somewere in the car, so you put this on the co-driver side and then you have the same weight on the places again. So you put something else onto the right hand side to get the weight there.
But you can put it on the left if you are sitting on the right ?
Ralf Jüttner :

But what is the benefit then? If you put the driver to the right because most of the tracks are going clockwise and then you have more the weight sitting on the inside.
Yes, but the pilot feels the centifugal force much more ...
Ralf Jüttner :

No, the centrifugal force is the same whether it is sitting on the left or the right
Reinhold Joest :

But there is not a big difference in this car. When you look the driver from the front, the driver is seatting in the middle
And for the aerodynamical force there is no big differences ?
Reinhold Joest :

No, no difference
Ralf Jüttner :

So.You dont have a big benefit, so we put the driver there where it is on your street cars as well. This let it on the left.
Your organisation is supposed to be the best in the world. Did you practice before Le mans during a few simulations of the 24 Hours on this car ? On evry parts, and many times ?
Reinhold Joest :

Yes. Sure. Many times, not just once. You know our best test was in America during the 12 Hours from Sebring. This was our "Test Race", fundamental . So this was very good for us, because we have had a lot to do afterwards. We had another 30 Hours test in Spain, Jerez, and then we have been in Le Castelet for one week. Le Castelet is very good for speed.
Ralf Jüttner :

And then we had a lot of time
And the car performed very well ?
Reinhold Joest :

Yes
David legangneux : You did two 24 Hours tests ?
Ralf Jüttner : No we did the Sebring Race and after the race we stayed at Sebring and continued running. Two days.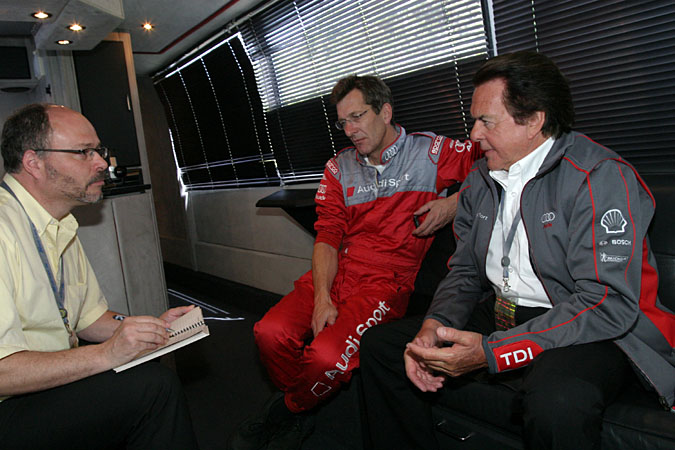 A l'heure des questions techniques "tout y passe": nombre de personnes dans le Team ; problèmes de surchauffe, rythme des ravitaillements, volant à gauche... et si il pleut ? Ce sera mouillé.... Dindo Capello en fera les frais quelques jours plus tard sous nos yeux dans la nuit au Tertre Rouge, même si le lendemain il décrochera avec sa n° 7 la Pôle 2006 sur le sec.
<>
So free, free ?
Ralf Jüttner :

No, no, that was basicaly the first of our 24 hours tests. 12 Hours on race conditions, the other 12 hours alone, but do like on a race conditions, less cars on the track
and then [a doing of sustain]
Have you found the problem, at Sebring, the reason of the problem of the engine n°1?
Reinhold Joest :

That was not quite the engine but the radiator
Too much rubber?


Ralf Jüttner :

It was rubber, rubber in the radiator and we did not see it
Reinhold Joest : Telemetry was out for 3 or 4 hours
So, you did not see the problem coming. And you retired to prevent a failure on the track ? You did add some oil I think in the Diesel more...
Ralf Jüttner :

It was running so hot for quite a while but when he came up to the pits the driver came and said that the temperature was high. We did not know because the telemetry was gone after one and a half laps into the race. And, by then, it was [late], we checked the data when the car came in, and did some investigations on the engine and it was pretty clear that it was predamaged from the heat.
It was not broken?
Ralf Jüttner :

No, but it would have. There was a good chance that it would have been brocken if we would have continued, because of that predamage from the heat. And this is what nobody wanted, so we stopped. We'd not have made the race.
It is a more technological car : does it need more people around the engine and around the chassis to do the work?
Reinhold Joest :

Yes



Ralf Jüttner :

Yes, because the Diesel technology is something that comes atop. When you normaly have one engine engineer per car, now you have this engine engineer still but you have an additional man who is specialist in Diesel applications. So you need a little bit of more.
How many people does the team has brought for this race ?
Ralf Jüttner :

For this race here ?
Yeah !


Ralf Jüttner :

We are about I think 80, 80 people.


Reinhold Joest :

80, 85


Ralf Jüttner :

With evrything, the engineers, Doctor Ulrich...
Bertrand Villeret : Up to the Marketing ?


Reinhold Joest :

No, no, not that... Only technical persons.


Ralf Jüttner :

People involved with the guides. It's a lot of people here of course because of the Audi engineers from Audi Sports working on this project who are here, looking to their parts they were responsible before...


Do you consider that you are already in race now. That the race has already started ?


Reinhold Joest :

Yeah, Sure, this morning
Ralf Jüttner :

I think since they have put the pre-test and the race together so close it is one event. So the event started this morning.
David Legangneux : how many stints or laps do you think you will do with the same set of tyres?
Ralf Jüttner :

We dont know, this is one of the task we have to try today. This is one of our major things we have to find out today.We dont know yet. We know it'd be lot.
Reinhold Joest :

Because the circuit is very dirty, you know. In the morning it was terrible. So it gets better and better... And it would be the same situation in the race week, so we gona have wednesday nigh practice and thursday night practice and in saturday it is also to be closed so it should be better for the race and the race track would normaly be very clean and this would be also better for the pilots of course you know.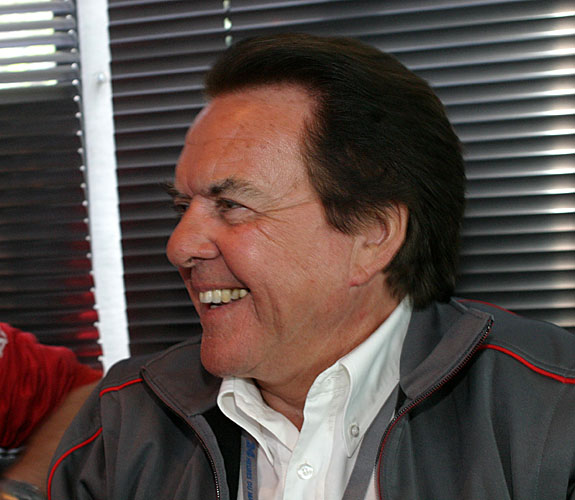 Fin d'interview très détendue. S'il regrette ne pas avoir gagné Le Mans en tant que pilote, Reinhold Joest ne veut se souvenir que des bons moments. Et celui qui est passé maître dans l'art de manager la complexité trouve dans le passé quelques vertues: "avant il suffisait de tourner la clef et d'appuyer sur le bouton pour démarrrer, maintenant il faut 4 ingénieurs autour du véhicule pour la mise en route".
Bertrand Villeret :

Let's get back to the temperature of the engine. Will it be running much more easily in the night or will it be the same?



Reinhold Joest :

No differences



Ralf Jüttner :

I dont know that there is a big difference with a normal engine. I think may be its even a little less critical than any, normaly aspirated, than a gazoline torque charged engine. But I dont think it's a big difference.




And if we get this kind of terrible weather we have in France sometime with, let say fourty five degrees in june over the track, should it not be too much of a trouble for the Diesel engine ?





Ralf Jüttner :

Not more than anybody else. It would be trouble for evrybody else.
But I dont think it's more trouble for us.




David Legangneux :

Did you checked more the radiators after Sebring ?
Ralf Jüttner : You can guess yes ! (laughts)

It was typical of Sebring ?

Reinhold Joest : I think here it is not as bad as Sebring. Sebring has a lot more rubber...



Ralf Jüttner :

Much more rubber. Le Mans, historicaly does not produce because the circuit is not so abrasive. It does not produce so much of this rubber stuff flying around, and collecting in the radiators. But [with 24 hours of race] it still double the stuff flying around so we have to make sure than it is out of our radiators.




Back to the team of 80 persons. Which part is from Audi, which part is from Joest and which part is from Champion Racing ?





Bertrand Villeret : and the question also holds for Doctor Ullrich. Is he for the race a member of the Joest Racing or does he keeps on managing for Audi Motorsport ?





Reinhold Joest :

Audi Motorsport



Ralf Jüttner :

He is the Director of Audi Motorsport




David legangneux :

How many people comes from Joest, how many people from Audi ?



Ralf Jüttner :

We have about 45, 40 from Joest, [two...of them ]Evry body is here. 3,4....



Reinhold Joest :

The rest is Audi



Ralf Jüttner :

And the rest is Audi


David legangneux : And one person from Champion ?

Ralf Jüttner: He is here of course because Champion will race the car after Le Mans


To learn and to know the car ?

Reinhold Joest : He is on holiday (laughts)



Ralf Jüttner:

Some of the Champion team members were at Sebring of course. Were there. Because they will have to operate the cars after Le Mans. They have to know




Will there be some races into which you gonna take part also ?





Ralf Jüttner:

There is no decision yet for the ALMS. We certainly hope that Audi decides that we do the 3 ALMS races after Le Mans. But there is no decision yet. We would hope




To finish with the technical questions, a more personnal question. What is your preferd car ? The best car, in your memory, your carreer or one you have seen. The best racing car ?





Reinhold joest :

The best racing car ? Whaoh... For me, for myself, as a pilot ?




As a pilot





Reinhold joest :

This is hard to say because in the 70's the best car was the Porsche 917, it was the fastest... the absolut top, top, top.. and now we have a new race track and new [standards] for the cars. Today you have monocoques which is safer, and you have other engines, things like gear boxes and power steering and power brakes. Its different.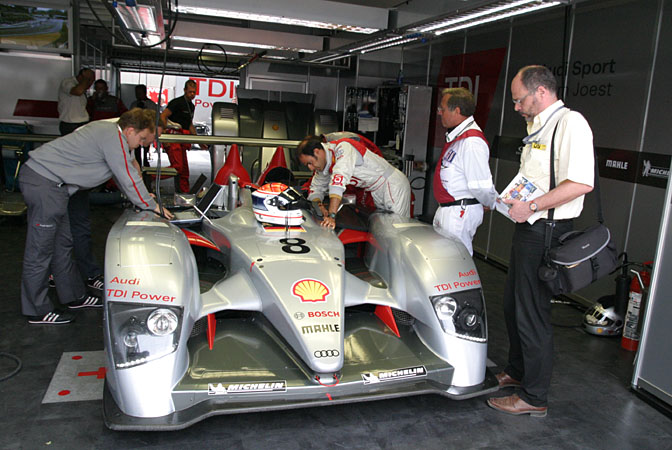 ça tombe bien car nous sommes quatre semble se dire Emanuele Pirro... futur vainqueur... pour la 4ème fois! Et cette fois-ci avec le numéro 8.





So you think its impossible to compare? So, which one would you prefer? One car for each era, maybe ?





Reinhold joest :

For years it was Porsche




Bertrand Villeret : Porsche 917 ?





Reinhold joest :

The "Flying Car"




David Legangneux : and your best win as a driver, and your best win as a team manager ?





Reinhold joest :

The best win ?... What was the best win ? Le Mans, I never won. That 's a shame, many times, not possible, no possibity to win. But a, let's say, when I stopped my carreer this was in 82. So the last race was in Kyalami, the 12Hours, so with a 936, Porsche 936. This was...


Bertrand Villeret : the best race ?

Reinhold joest : Yes


And the win...

Reinhold joest : And the win... It was a nice season with Jürgen Mass together, we did all the championship races and the last 9 of our races, it was on top.




But as a Manager, was it the 1984 win with Pescarolo at the helm ?





Reinhold joest :

Yes, yes


.

.. Or was it the first win with Audi ?





Reinhold Joest :

This is also different to say. Also another time. You know this was the start of my team. The team was small and get big and bigger and bigger and bigger. So today we are very big. So it's completly another challenge, you know.




Which brings me to the very last question, for our readers that are consultants, because as you know, they are consultants. The teams were small a long time ago and they were operated with some feeling. Now they are more organized. Do you think that this trend is to continue in this way and that this is "good for humanity ", I would say, to have something much more organized, or do we have to get back to something which would be more lighter in term number of people in the teams and number of people around the cars ?





Reinhold Joest :

It is very easy to say ! We were organized at the same level [as today]in 83, 84 and 85. You know, so... But the point is, that in this time you needed 2 people to set up the car, start-up the car, you know : «

Turn the key, push the button, and the engine was running

» without computer and ...nothing else. So this was much more easier. Today evrything is more and more "Technical" and the point is bigger : you need 4 people to start-up the engine, you know, and this is a big difference! That way you need more people and you have to be otherly organized, you know. In different parts you have to organize.




Is it any fun that is left in the process ?





Ralf Jüttner :

Yes of course it is!



Reinhold Joest :

Yeah, yeah




And you definetly say yes ?





Reinhold Joest :

Yes



Ralf Jüttner :

Oh Yes. You always say it was better «

20 years ago, evrything was better

». But we will say this in 20 years then.



Reinhold Joest :

You forget the bad things and you always keep in memory the good things. Always.


Words collected by Bertrand Villeret
Editor in Chief, ConsultingNewsLine

and

David Legangneux
Journalist,

Le Mans Racing





Pictures :


David Legangneux for

ConsultingNewsLine / Le Mans Racing / DailySportCars



The 2006 ConsultingNewsLine report on Le Mans is a joint project by :
Website

ConsultingNewsLine,

Magazine

Le Mans Racing,

Radio

RCF Le Mans





Notice on Team Joest :


| | | |
| --- | --- | --- |
| | 24 Hours of Le Mans Win | and/or Other Races / Championship |
| 2006 | | Audi R10 ALMS 12 Hours of Sebring |
| 2003 | | Audi R8 ALMS, 12 Hours of Sebring |
| 2002 | | Audi R8 ALMS, 12 Hours of Sebring |
| 2001 | | Audi R8 ALMS, 12 Hours of Sebring |
| 2000 | | Audi R8 ALMS, 12 Hours of Sebring |
| 1996 | Porsche TWR n°7 ITC | |
| 1995 | Porsche TWR n° 7 | |
| 1985 | Porsche n°7 | |
| 1984 | Porsche n°7 | |
| 1980 | | 24 Hours of Daytona |





To Know more :


Audi Sport Team Joest : C/O Joest Racing GmbH
Bahn Strasse 14
D-69483 Wald-Michelbach
Tel : 49 (0) 6207 / 94200
www.joest-racing.de
motorsport-media@audi.de
www.audi-motorsport.info